Extra long ultra-thin pads, with two sets of protection wings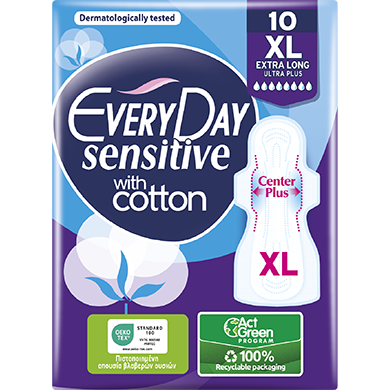 With an extra-soft, hygienic cover that contains cotton and allows skin to breathe.
With the revolutionary Center Plus technology, featuring an extended core, that ensures up to 30% more absorbing surface in the center of the pad, compared to other ultra-thin pads, for unmatched protection from side leakage.
With two sets of protection wings: "central" wings protect from side leakage, while "rear" wings ensure better fit and protection from leakage at the back.
40% longer, compared to EveryDay Ultra Plus Normal pads.
Suitable for cases of heavy-very heavy flow and night use.
Dermatologically tested.
The first pads to be recommended by the Greek Union of Gynaecologists and Obstetricians.
The first pads in Europe to be Oeko-Tex® Standard 100 certified, for absence of harmful substances.
Available in packs of 10 and 18 pieces.
They offer safe protection from irritations, with a touch of cotton, and certified skin-friendliness!
EveryDay products follow responsible environmental practices.
They are produced in MEGA's factory, using 100% green energy sources, as verified by the Green Certificate.
MEGA received the international certification Zero Waste to Landfill at "Gold" level, as in 2020 its production unit achieved 99% recycling and Energy Recovery.
Packed in 100% recyclable carton boxes with 100% materials promoting the circular economy.
Packed in 100% recyclable packaging with 30% materials promoting the circular economy.
Products not tested on animals.
FEEL CLEAN AND FRESH ALL THE TIME WITH...